Regular price
$239.90 USD
Sale price
$99.99 USD
Unit price
per
Sale
Sold out
In stock
Save Time And Effort While Never Letting Your Kitty Go Hungry!
Always on the go that you keep missing your pet's feeding time? Do you want a device that can help you feed your pet on time? The Automatic Dog & Cat Feeder is an automatic cat feeder that includes a personal settings of customizable mealtimes and portions. This handy, best-selling cat food feeder, you can quickly set up your cat's meal schedule based on your pet's age and weight!
Besides, our feeder is perfect for some pets that need to help with weight loss or portion control and also have strong connections by feeding calls via your voice even when you are away.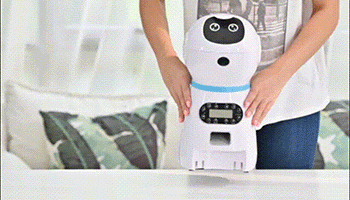 ✔️ This device can set up to 4 meals a day!
The Automatic Dog & Cat Feeder includes a large 15-cup feeding capacity that allows you to pre-set up to 6 meals a day for your pet. A serving amount that's definitely more than enough to keep them well-fed and happy until you arrive home.
✔️ User-Friendly Interface With LCD Display
Most automated feeders in the market today don't have any screen for you to work on. Not only will you end up fumbling on and about trying to get the thing working properly, but they are also prone to errors as well since they don't have any visual representation of what you're working on in the first place. The AloFeed Automatic Dog & Cat Feeder spares you from the guessing game as it comes built-in with an LCD screen along with its incredibly user-friendly interface. Set automatic feeding schedules with zero room for errors.
✔️ Active Slope Design Prevents Clogging
Tired of clunky feeders that jams every single time? No worries, as the AloFeed Automatic Dog & Cat Feeder comes built-in with a 360-degree sloped design that rotates and prevents your pet's food from clogging and jamming as it dispenses food.
✔️ Flexible & Scheduled Feeding Portions Per Serving
The diet of every pet is certainly different from another, which is why this smart feeder lets you modify each of your pet's feeding portions per serving allowing you to balance out the amount they eat depending on their size. With 1 up to 20 portions per meal and 5g for every portion. As a quick reference, 1 cup of food is equivalent to about 24 portions.
✔️ Can Be Powered Via Power Adapter Or Batteries
The Automatic Dog & Cat Feeder gives you the option of running it on either battery power (3 x Type D) or via wall outlet through its power adapter. This amazing pet feeder for as long as 6 months on batteries giving you less to worry about when you're out on a holiday break.
✔️ Removable Tray For Easy Cleaning
This may sound like we're stating the obvious, but no pet would want to eat their food on a filthy tray. The Automatic Dog & Cat Feeder comes with a removable tray for quick and easy cleaning. A simple, yet practical feature most mainstream feeders skimp out on.
✔️ Perfect For Both Dogs & Cats Alike
This smart feeder is made to cater both dogs and cats alike regardless of their breed or size. Whether you're an avid dog lover or a fur mom to cats, the Automatic Dog & Cat Feeder is an excellent choice when it comes to helping them stick to their diet while you're away.
Shipping

We offer Free worldwide shipping on all orders! All orders take 6-12 business days to be delivered depending on your location.
30-Day Guarantee

All orders include a 30 day guarentee. If anything happens within 30 days of recieving your product, contact our support team for a swift and active reposnse.
View full details